Aurelia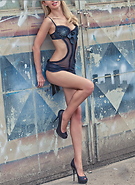 Name: Aurelia
Location: New York City, NY
Call: (646)371-2435
Age: 25
Height: 5′ 6″
Size: 34B
Ethnicity: Caucasian
Service: 1 HR: $700
My name is Aurelia.
My friends say I am a true "woman" and they are right. I love the beautiful things life has to offer and the attention of man, and being pampered by him is a part of it. In return I offer a lot of affection and humour with good taste, and lust to use and enjoy the time we spend together fully.
A beautiful moment is perfect only when one can share it with someone special. To enjoy life with all my five senses is my motto. Everything I do, I do from the heart, or else I wont do it at all. Im also a very open-minded girl, who loves to explore the world, be adventurous and meet new people.
Im the kind of girl who can be a well-behaved and perfect lady during the day, and naughty at night )
Im a charming person who will quickly win your heart, as Im not only very attractive, but also very sensitive with an open and easy-going personality.
I love flirting with my green eyes and my cute smile in an irresistible and absolutely desirable way. Enjoy the tender touch of my soft hands, the warm kisses of my lips and the devotion with which I experience this hot interlude with you – an adventure of love that will be your sweet secret.
You can expect a beautiful, charismatic, friendly,impressive, flexible, elegant, charming and sexy companion.
I also LOVE LOVE LOVE to travel –Im always happy if Ive got a gentlemans invitation to be his traveling companion.
Kisses, Aurelia
Phone number
(646)371-2435